Original Content from P.O.W. Network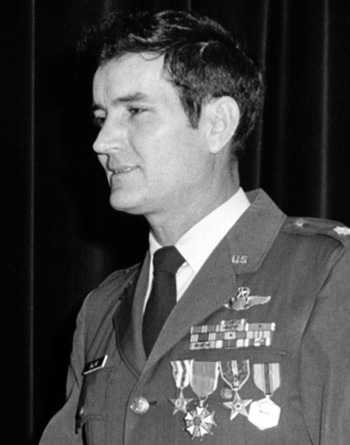 BALLARD, ARTHUR T
Name: Arthur T. Ballard
Rank/Branch: O3/United States Air Force, pilot
Unit: 13 TFS
Date of Birth: -1 February 1932
Home City of Record: Spartanburg SC
Date of Loss: 26 September 1966
Country of Loss: North Vietnam
Loss Coordinates: 214200 North 1052500 East
Status (in 1973): Returnee
Category:
Missions: 68
Aircraft/Vehicle/Ground: F105D
Other Personnel in Incident: none
Source: Compiled by P.O.W. NETWORK 1996 from one or more of the following:
raw data from U.S. Government agency sources, correspondence with POW/MIA
families, published sources, interviews.
REMARKS: 730304 RELEASED BY DRV
SOURCE: WE CAME HOME copyright 1977
Captain and Mrs. Frederic A Wyatt (USNR Ret), Barbara Powers Wyatt, Editor
P.O.W. Publications, 10250 Moorpark St., Toluca Lake, CA 91602
Text is reproduced as found in the original publication (including date and
spelling errors).
UPDATE – 09/95 by the P.O.W. NETWORK, Skidmore, MO
ARTHUR T. BALLARD, JR.
Lieutenant Colonel – United States Air Force
Shot Down: September 26, 1966
Released: March 4, 1973
Lieutenant Colonel Arthur "Ted" Ballard, Jr. was born 1 February 1932 in
Spartanburg, South Carolina. The oldest of seven children, Ted is a graduate
of Spartanburg Senior High School, Spartanburg Junior College and attended
Clemson University.
He entered the Air Force in January, 1954 as an Aviation Cadet. He received
his silver pilot's wings and commission in June, 1955 at Greenville Air
Force Base, Mississippi. Also in June,1955, he was married to the former
Miss Ruth Searcy of Lake Lure, North Carolina. Kevin, the Ballard's only
child, was born October 27, 1959 in Victorville, California.
Ted has been assigned to Nellis Air Force Base, Nevada; George Air Force
Base, California; Wheelus Air Force Base, Tripoli, Libya; and Kadena Air
Force Base, Okinawa.
In June,1966, the 13th Tactical Fighter Squadron, to which Ted was assigned,
was deployed to Korat Air Force Base, Thailand, to begin flying combat
missions over North Vietnam. While flying his 68th mission, on September 26,
1966, Ted's F-105 was hit by ground fire and he was forced to eject over
enemy territory, north of Hanoi. Suffering a broken left leg and a sprained
right leg, he was subsequently captured and interned by the North
Vietnamese. He remained a prisoner of war for 6 « years until his release
March 4, 1973.
As a message, Lt. Colonel Ballard says: "I wish every American could have
witnessed the individual courage, the devotion to duty, and the unswerving
patriotism of our fighting men during our years of captivity. This is the
greatest nation on earth. Support it, enjoy it, but please don't abuse our
many freedoms."
November 1996
Arthur Ballard retired from the United States Air Force as a Lt. Colonel. He
and Ruth live in South Carolina.
Reprinted with permission of Ted Ballard 12/29/96
Date: Tue, 24 Dec 1996